Express LUCK Group "Industry 4.0" Kickoff
Under the fast-changing and strong self-protection world trade atmosphere, traditional production practice is no longer to seek the breakthrough. To surpass the bottleneck, enterprises move toward intelligent and connect with the era of big data is inevitable. «Industry 4.0» really can help Express LUCK Group to become a Smart Enterprise.  This can be the blueprint and corporate mission to enhance the productivity so as to achieve the maximum benefit towards sustainable development.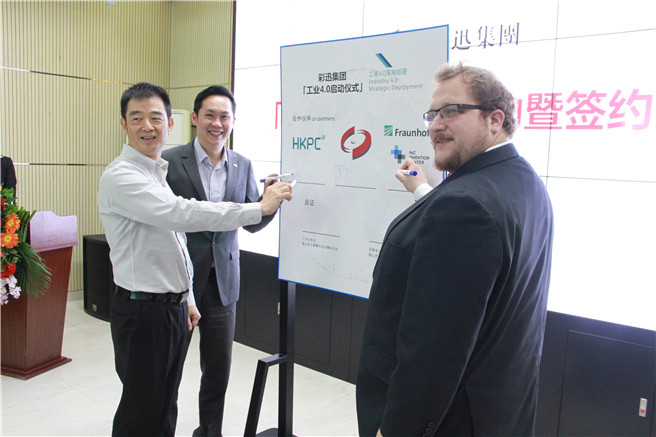 From left: Mr. Sam Chan – Chairman of Express LUCK Group, Mr. Lyan Law – Lead Consultant, Industry 4.0 of Hong Kong Productivity Council, Mr. Patrick Kabasci – Consultant and Technology Management Researcher of Fraunhofer IPT
In order to become an innovative and intelligent enterprise, with the support from the Hong Kong Productivity Council and the German consultant from Fraunhofer IPT of «Industry 4.0», Express LUCK Group officially announced the «Industry 4.0» kickoff in mid-November.
This concept is a 360-degree system which fully integrates marketing, supply chain, R&D and engineering, production, quality management and information technology. With the real-time data collecting; data storage, computing and analysis; enhance IoT and internal data sharing eventually drive automation integrated control system. This allows the group to be more flexible in enhancing its global competitiveness, most importantly enables the company as the first batch qualified smart manufacturers of "Industry 4.0" from the Fraunhofer IPT (Germany) and the Hong Kong Productivity Council.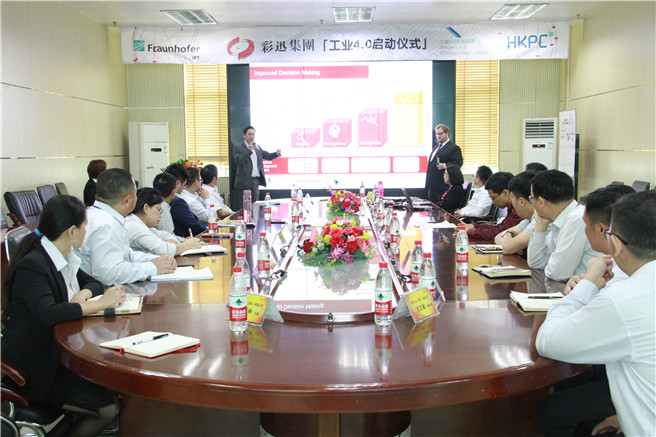 2 Experts Sharing the concept of Industry 4.0
Through «Industry 4.0», Express LUCK Group is not only producing smart TV, being the top ten exporters of China TV manufacturing exporters; it will also become the first «Smart Enterprise» among smart TV manufacturers as well as the pioneer among the China TV Manufacturing Exporters approaches to the 4th industrial revolution.
Notes to Editor:
Express LUCK Group is a high-tech company with rapid expansion. Its main business focuses on smart cloud televisions, LCD TVs and commercial displays. Through Global Manufacturing Support and strategically set-up factories and Sales Offices in different continents in USA, Colombia, Mexico, Egypt and Hungary.  With integration from R&D, design, manufacture and sales; products are now exporting to over 60 countries in the world, including Europe, South America, North America Free Trade Area (NAFTA), Middle East & Africa and other major markets.