2018 Hong Kong Electronics Fair (Spring) – Chairman was invited as the speaker for Symposium
Here comes the 2018 Hong Kong Electronics Fair (Spring Edition) again. Apart from exhibiting as usual, Chairman Mr. Sam Chan, Kwong Sang of Express LUCK Group was also invited as the speaker by the Hong Kong Electrical Appliance Industries Association for the symposium – "New Markets for Hong Kong Electronical Appliance Industries".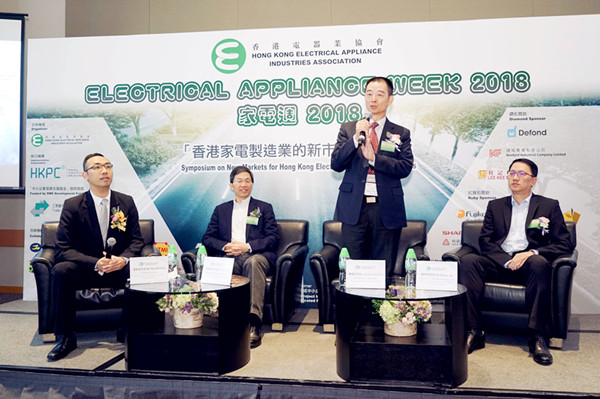 In the symposium, Mr. Dickson Ho, Principal Economist for the Asian and Emerging Markets from the Hong Kong Trade Development Council shared the important data and highlighted the market potential of emerging areas. Following by Mr. Sam Chan shared his experience in building the factory in Hungary. Many participants from the industry actively asked questions, Mr. Chan also stressed his experience including the difficulties and opportunities encountered. Most importantly, Mr. Chan announced that this Hungary plant only took 2 months to complete.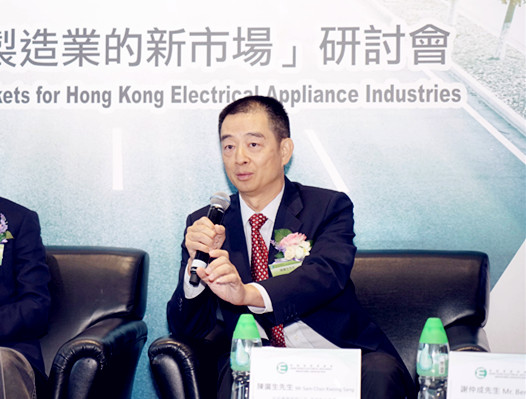 "It is not only providing 200 jobs for local resident nearby, with its mature infrastructure and maturity of logistic network in Hungary, undoubtedly can help to strengthen the competitiveness of Express Luck in penetrating the European market, also secures our benefit on Just-in-time», says Mr. Chan.
In 2015, Express Luck strategically established the first plant in Romania, as the first pilot factory of the Global Manufacturing Hub for the group, targeted to provide a more flexible supply chain to cater for penetrating the niche of European market. To local business partners and end-users, Express Luck could enjoy more competitive products at affordable price level with comprehensive after-sales services.
"Since 2015, we established the first factory in Romania, we are strategically targeting for strengthening our Global Manufacturing Support across different continents. This includes America, Europe, Middle East and Eastern Europe.  Now we have already set-up factories across Colombia, Mexico, Egypt and Hungary respectively. We are applying the Just-In-Time production policy globally.  This Hungary factory can complete within 2 months, and it's already put into mass production since January this year. The smooth completion of Hungary plant is not only relied on the team's united spirit, it also reflects the maturity of our self-built factories experience. Our ultimate goal is offering wider and better choices to end users which is value for money and let them enjoy a better visual / audio experience, » concludes Mr. Chan.
Hungary plant is occupying 20,000 sqm, production line is adopting the semi-automation system, with monthly capacity up to 100,000 units of television. We firmly believe that «Technology creates Evolution, Innovation improves Life,» these are the self-powered drive for advancing our technology and process optimization. Looking forward, Express Luck's Global Manufacturing Support will be more mature, better application of JIT policy can shorten our production lead time and eventually makes our products more competitive and benefit to the end-users.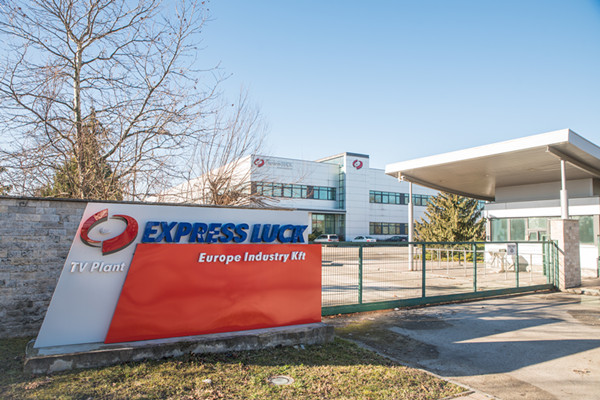 Notes to Editor:
Express Luck  is a high-tech company with rapid expansion. Its main business focuses on smart cloud televisions, LCD TVs and commercial displays. Through Global Manufacturing Support and strategically set-up factories in different continents in Romania, Colombia, Mexico, Egypt and Hungary.  With integration from R&D, design, manufacture and sales; products are now exporting to over 60 countries in the world, including Europe, South America, North America Free Trade Area (NAFTA) and other major markets.